It's great fun to take your dog with you on vacation, and Croatia is a perfect holiday destination to take your pet dog with you. Take your dog for a swim in the clear blue Adriatic sea, walk through the woods and along the beautiful natural countryside. I have collected some fun and useful information about travelling with your dog to Croatia.
What do you need
When travelling in another country of the European Union, your pet must have a standard European passport. This passport must contain your dogs microchip serial number, proof of all necessary vaccinations of which the vaccination against rabies is the most important. Click here for more information. Talk to your veterinarian which vaccinations and precautions against for example ticks, fleas and worms are needed for your dog.
Dog & Beach
On most beaches, dogs are prohibited, especially if there are many people and sometimes fines are issued. However, there are several dog-friendly beaches in Croatia! You can recognize these beaches by a blue plate with a picture of a dog on it and the words 'Plaža za pse'. Make sure you have enough water and a small umbrella with to create shade for your dog as in summer times the temperatures can be high and the sunshine strong.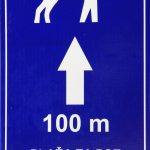 Dogs beaches there are in the following locations
The coastal towns
Crikvenica – beach Podvorska
Komiza – beach Vartalac
Murter – Jezera
Opatija – beach near Punta kolovi – between Opatija and Ičići
Poreč – beach near camp Istra, Stari Cervar area
Rovinj – bay Lone, bay Cuvi, bay Borik-Figarola, camp Polari
Rijeka – stadion Kantrida, Kostrena and Ploče
Split – north-western part of Kašuna, western part of Kašteleta, Kvadar near Žnjanu, Trstenik and Lumbarda under Pazdigrada after 20.00
The Islands
Island Cres – near camp Kovačine, near ACI Marine Cres and near the village Gavza
Island Krk – beach Koralj, bay Dražica, Šilo, Baška, Njivice – a very dog friendly island!
Island Losinj – part of the beach 'Veli žal' near Lanterna
Dogs in Croatia
If you walk your dog, he must be leashed and large dogs must wear a muzzle when you're in a place such as a nature park or a large city.
There are hotels, campsites and private accommodation where you can bring your dog, usually for an additional fee. Inquire in advance about these possibilities.
It is allowed to take your dog on the train, a small dog that can sit on your lap is even free of charge, a larger dog (over 30 cm) will cost half the price of a ticket. It is not allowed to take your dog on buses or trams.
If you want to use a taxi, ask the driver if it is OK for you to take your dog with you. Each taxi driver can decide for himself whether he wants to take a dog in his car or not, and he will also charge a fee.
Croatian dog breeds
The most famous Croatian dog is obviously the Dalmatian, very recognizable – white with black dots! Made famous by the cartoon! But there are other Croatian breeds some of which are:
Croatian Sheepdog
Dalmatian (dog)
Istrian Shaggy Dog
Istrian short-haired dog
Posavac Dog
Tornjak