Due to its endless scenic coastline with its many inlets and islands Croatia is a good destination for all kind of water-sports. You can find different kind of beaches, mostly rock and pebble beaches, but at certain places sandy beaches can be found. Due to the geographical location of the Adriatic sea, within the Mediterranean sea and secluded between the coast of Italy and Croatia, waves are not very high, but there is always a steady wind, and sometimes forceful northern winds, called the 'bura'. This wind can be very strong and results in closure of roads and bridges, mostly for trucks and cars with a trailer.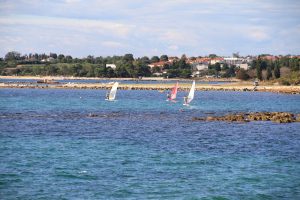 Along the Croatian coast you will find in almost every larger place opportunities to hire equipment and go to wind- and kitesurfing schools.
Here are some of the best windsurfing destinations in Croatia:
On the peninsula Istria
The Premantura Peninsula, just south of Pula near the town Premantura here the north-easterly bura winds can blow up to 40 knots, and there are some desolate beaches lining the rocky shore.
The beach near the hamlet Ravni, south of the popular beach town Rabac roughly between Opatija and Pula.
Savudrija in Umag, Istria
Labin, here the NW maestral winds give you a great push
In the Kvarner region
Preluk, this is a sheltered bay located between the larger towns Rijeka and Opatija, here the northerly tramontana winds are best in the early mornings!
Baska on the island Krk, here the north-easterly bura predominates and Baska beach is one of the best beaches in Croatia. The island is connected to the mainland by a (toll) bridge
Dalmatija
Beach Bol on the island Brac is one of the best windsurfing destinations along the coast due to the mild maestral in the mornings, which is great for beginners and a more fiercely wind in the afternoon
Viganj near Orebic, on the Peljesac peninsula is a perfect place for windsurfers, here windsurfing championships have been hosted!
Here a link to the Croatian Association for Windsurfers